Part 2 – The Lawnmarket
In Part 1 of our Virtual video Tour of Edinburgh we took you on a short tour of Castlehill and Edinburgh Castle. Following on from this in Part 2 of our Virtual Tour of Edinburgh, we come next to the Lawnmarket. It is a significantly longer section than Castlehill. Along it are a number of very interesting features including the Highland Tolbooth Kirk, Gladstone's Land, Deacon Brodies, St Giles Cathedral and the Signet Library. All of these are worth taking a look at when you visit Edinburgh. If you take one of our tours, we are able to cover so much more for you. But click on our video below for a taster of what we cover.
Highland Tolbooth Kirk
If we begin at the top of the Lawnmarket, we can't help but come face to face with the Highland Tolbooth Kirk. This gothic style building was built between 1842 and 1844 and was initially built to house the General Assembly of the Church of Scotland. It also had a congregation whose church services were carried out in Gaelic before eventually locating to Greyfriars Kirk. Now the building is home to the headquarters of the Edinburgh Festival, as well as housing the Hub café.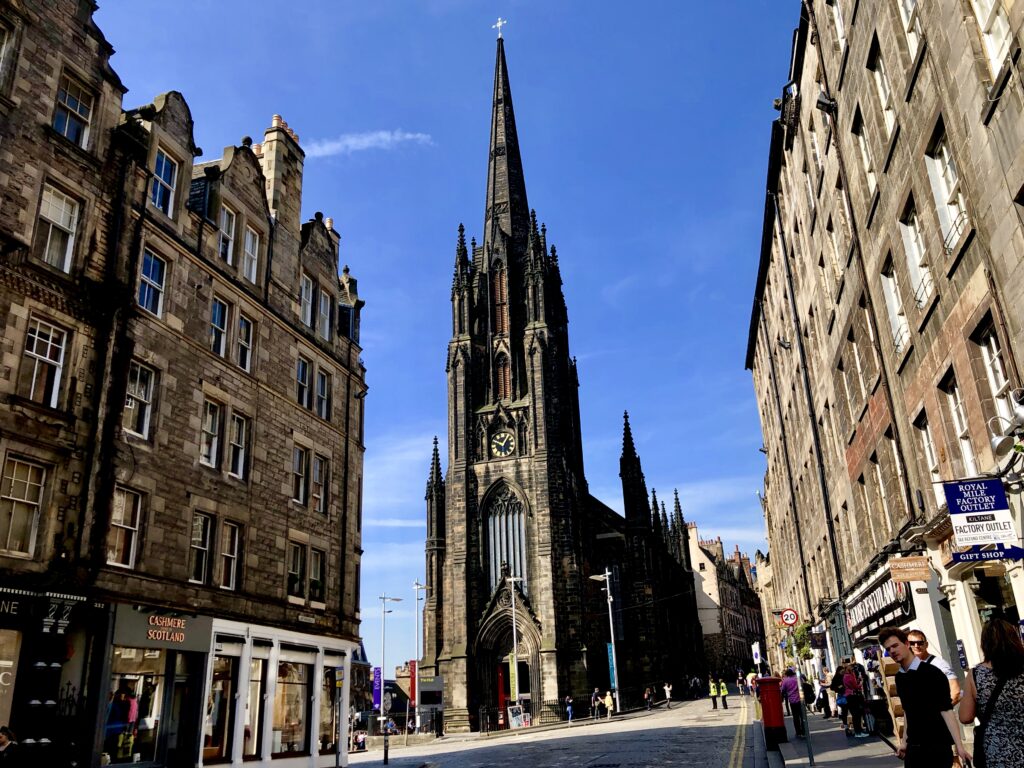 Gladstone's Land & Deacon Brodie's
Only a short distance down from here can be found Gladstone's Land. This is one of the older buildings on the Royal Mile and was originally built in the mid 1500s. The present building was redeveloped in 1617 by Thomas Gledstanes. In the early 1930s it was at risk of being demolished but was rescued when it was purchase by the National Trust of Scotland. While restoring the building, incredibly they found the original painted ceilings which had been covered by centuries of wall coverings.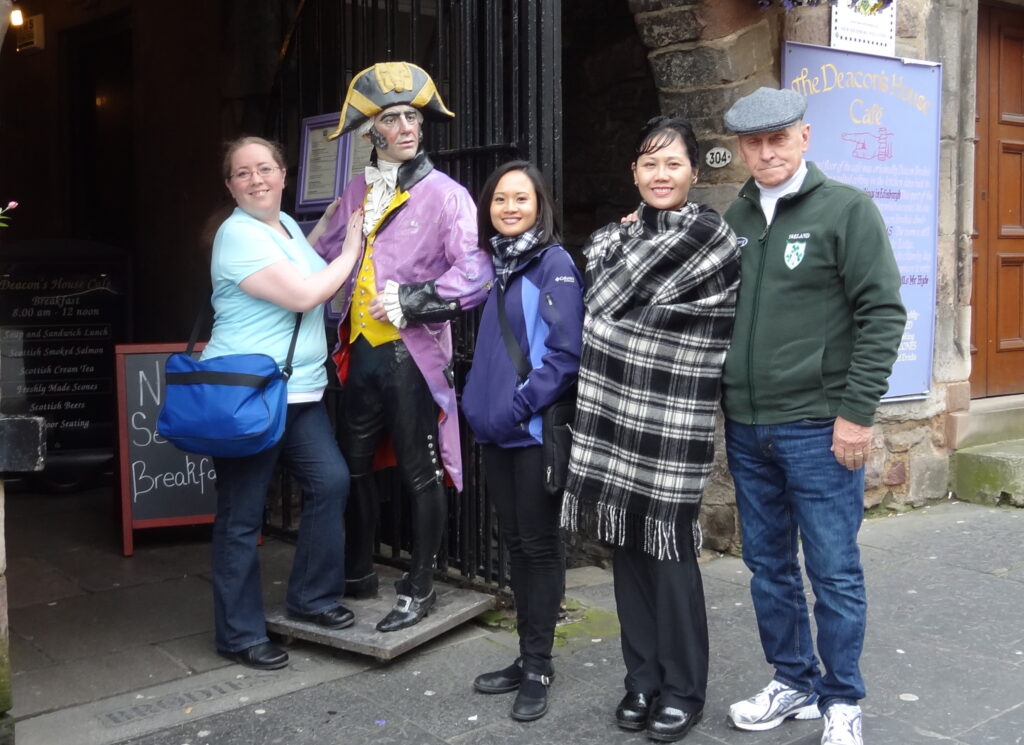 Only a short walk down from here on the opposite side of the street, you come to Brodie's Close. If you walk down the Close, you come to Deacon's House Café, on the original site of Brodie's workshop. Deacon Brodie was an (in)famous individual in the mid-18th century. Despite being a respected gentleman and town councillor, he hid a much darker side which was to be his downfall. However, his story deserves a post all of its own which we will cover in the future.
Crossing over the traffic junction, on the south east corner, you will find a plaque. This confirms that the last public execution in Edinburgh took place here in 1864. Directly opposite is the entrance to High Court of Edinburgh, scene of many high profile trials.
St Gile's Cathedral
Finally, on this section of our virtual tour we can see St Giles "Cathedral" in all of its glory. You can't help but notice it with its splendid crown spire. Although there has always been a church here possibly as far back as the 9th century, much of the church is of a much later construction. What we can say for certain is that it would have once been a Roman Catholic church. However, during the Reformation of the mid-1500s all trace of Catholicism was removed and it thereafter became a Presbyterian church. Very briefly thanks to Charles I, it was elevated to the status of Cathedral together with its own Bishop of Edinburgh. However, riots resulted and eventually it reverted to a Presbyterian church. But to this day it is still referred to as St Giles Cathedral.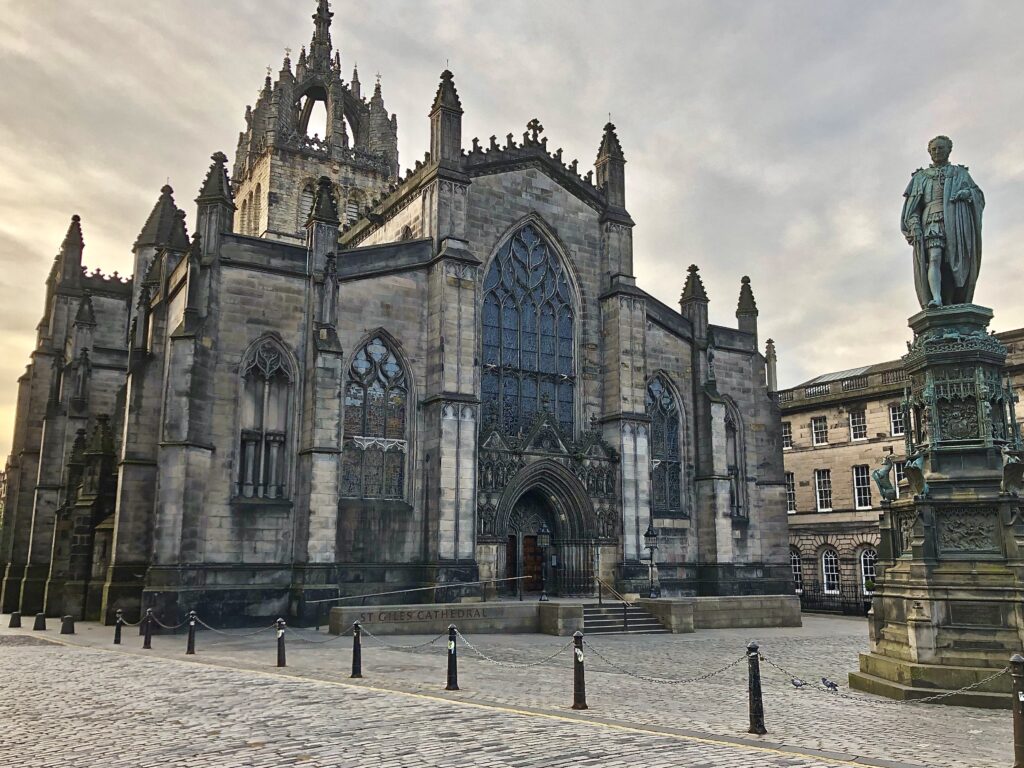 This completes the overview of the Lawnmarket. However, there is so much more that we cover on our tours. So if this has whetted your appetite take a look at our tours or follow us on Facebook for further details.