HIGHLIGHTS OF JEDBURGH
Any visit to the Scottish Borders could, or more accurately, should include a visit to the beautiful little town of Jedburgh. It tends to compete with the visitor's affections if they are considering instead visiting Melrose Abbey and Abbotsford House. Jedburgh is well worth a visit because it  has one of the best-preserved medieval abbeys out of the trio of abbeys which include the aforementioned Melrose Abbey and Dryburgh Abbey.
All of them can be found in the Scottish Borders.  Jedburgh can be reached from Edinburgh in about an hour and thirty minutes if driving there directly. Alternatively, it will take you twenty minutes if you have stopped off in Melrose to visit Abbotsford House, the home of Sir Walter Scott. Interestingly, he also had an important legal connection with Jedburgh. 
Jedburgh also has a restored jail that came about as a result of prison reforms in the late 1700s. Just outside the town itself is Ferniehirst Castle which should be visited if you belong to the Clan Kerr. And for anyone with a fascination for medieval royalty, there is a fantastic Visitor Centre at the 16th century house that Mary Queen of Scots stayed at for a month in 1566.
Read on for more details about the highlights of the town or why not click on the video link below for a tour of the town by Edinburgh Cab Tours.
JEDBURGH ABBEY
Jedburgh Abbey is without doubt the town's biggest draw.  You can't help but be impressed as you approach this architectural masterpiece. It most likely occupies a site that belonged to an earlier religious community. It is quite possible that religious worship took place here for more than 1000 years.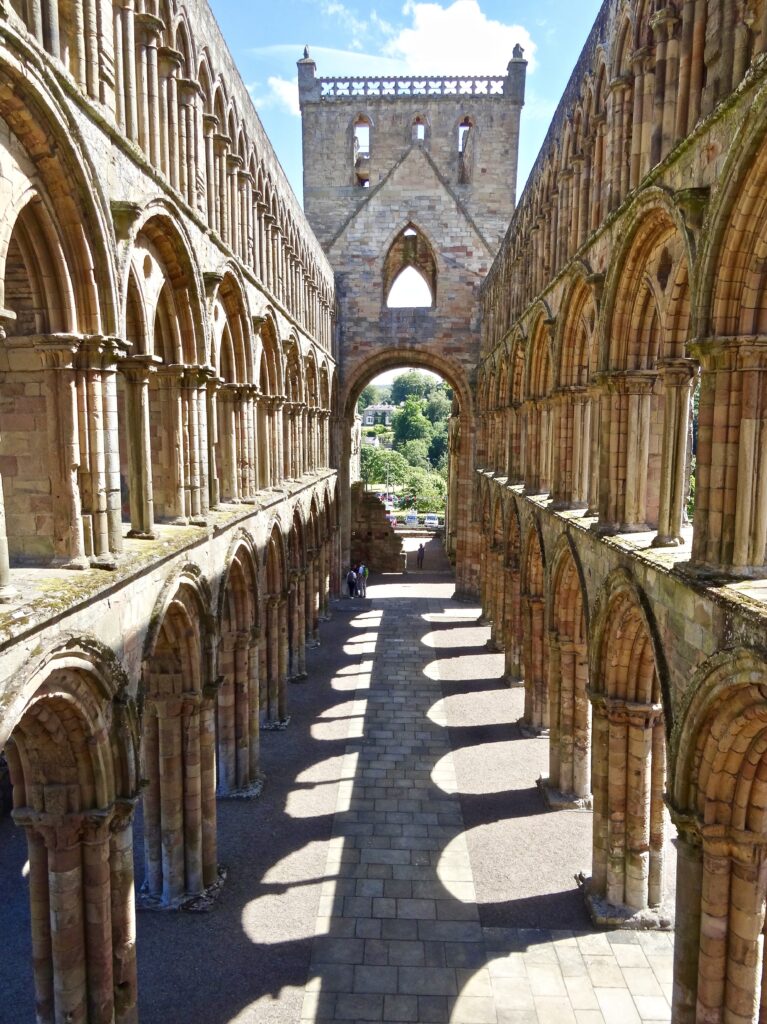 It was initially founded as a priory at the behest of King David I in collaboration with Bishop John of Glasgow in around 1138. It was during this period that David was keen to further the Roman Catholic faith and he did this by founding a number of Abbeys and Priories. Probably the most famous of those is Holyrood Abbey in Edinburgh. But in the Scottish Borders, as well as Jedburgh Abbey, you can also find Melrose and Dryburgh Abbeys. 
King David invited the Augustinian order of Canons to set up the priory in Jedburgh. The same order were also responsible for creating Holyrood Abbey in Edinburgh, so were held in high regard by the King. Shortly after the King's death, the Priory was elevated in status to that of an Abbey.
As the visitor walks around Jedburgh Abbey it is easy to spot some of the most impressive Romanesque and Gothic architecture that can be found anywhere in Scotland. Sadly, the location of the Abbey was to be its downfall. Situated as close to the Scottish-English border as it was, it was a clear indication that David was sending a message to the English King that David's control extended right up to the border. The abbey was to be his most impressive architectural gem and also a target for any invading English army. 
In years to come, during the Scottish Wars of Independence in the late 1200s and early 1300s, the English King Edward I used the Abbey as a lodging house. He went so far as to appoint an English Abbott to ensure that the Augustinians knew who was in charge.
Much later during the Rough Wooing of the 1540s that the Abbey was to come under serious attack. Because the Scots had rejected the English demand to marry Mary Queen of Scots to King Henry VIII's heir Edward, the English laid waste to Scotland. Jedburgh was a prime target. Despite this it still retains many of its original features. 
With the Protestant Reformation in the 1560s, the Catholic faith was outlawed. The Canons were permitted to see out their lives at the Abbey but maintenance of the Abbey declined. Eventually, parts of it were pulled down to be recycled to build other parts of the town.  
If you do visit Jedburgh, you must include the Abbey. And if you do, make sure to climb up to the top of the towerhouse for fantastic views out over the abbey. Be aware that it involves quite a steep, narrow climb up and down a spiral staircase. Anyone, who struggles with too many steps, or confined spaces may just want to give this a miss.
JEDBURGH CASTLE JAIL
Jedburgh also has a very well preserved and restored prison – Jedburgh Castle Jail. The great prison reformer John Howard advocated wide reaching reforms in 1777. Up until then prisoners were thrown into one communal jail where men, women and children were incarcerated together. Conditions can only be described as horrendous, violent and insanitary. Some longer term prisoners never made it out and the weak were most at risk.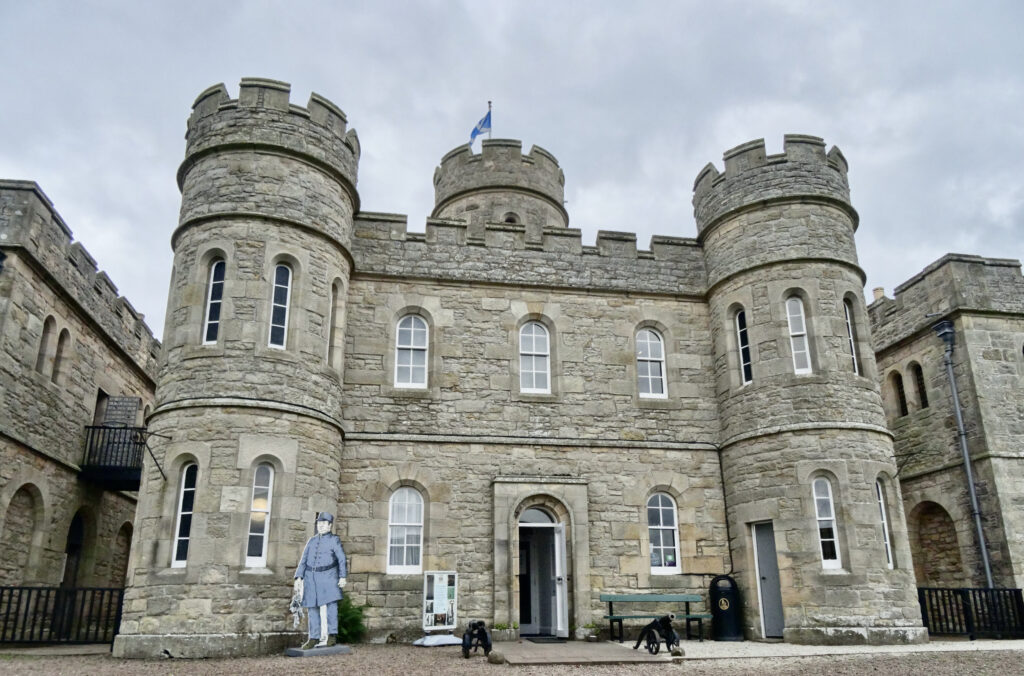 Part of Howard's recommendation advocated single cells with all prisoners separated. Their diet was to be significantly improved. But the prisoners were also ordered to spend their daytime hours in hard labour. In addition, they were permitted to exercise in the fresh air in the exercise yards and were required to participate in religious education. The changes improved the conditions for prisoners and it was hoped that this would help to rehabilitate them.
By 1877, small county jails like this were phased out and prisoners from throughout Scotland were transported to the much larger purpose built prisons in Edinburgh, Greenock, Barlinnie and Aberdeen.
MARY QUEEN OF SCOTS HOUSE
It is claimed that Mary Queen of Scots came to Jedburgh for a few weeks in 1566. Holding court there she required a suitable place to stay and so she rented this house…..although there is debate whether it was this exact house. Whatever the case, it is a fine example of a house built in the early 16th century. 
But because of its connection with Mary it was restored in the early 20th century and was opened to the public in 1930. Inside Mary Queens of Scots House, it has been turned into a museum that explored her life and those around her. There are many artefacts that relate to the period of Mary's reign and is well worth spending time at it.
The exhibitions explains how she was betrayed  and eventually forced to abdicate before escaping to England. Here she mistakenly believed that her cousin Queen Elizabeth would provide her with protection. Sadly she was to spend the remaining twenty years of her life in captivity before being executed. 
OTHER PLACES OF INTEREST
Other places of interest in Jedburgh's town centre include the site of the original Council building where trials would have been held. It was here that Sir Walter Scott, in his role as a defence lawyer, made his first appearance in 1793 as shown on this commemorative plaque.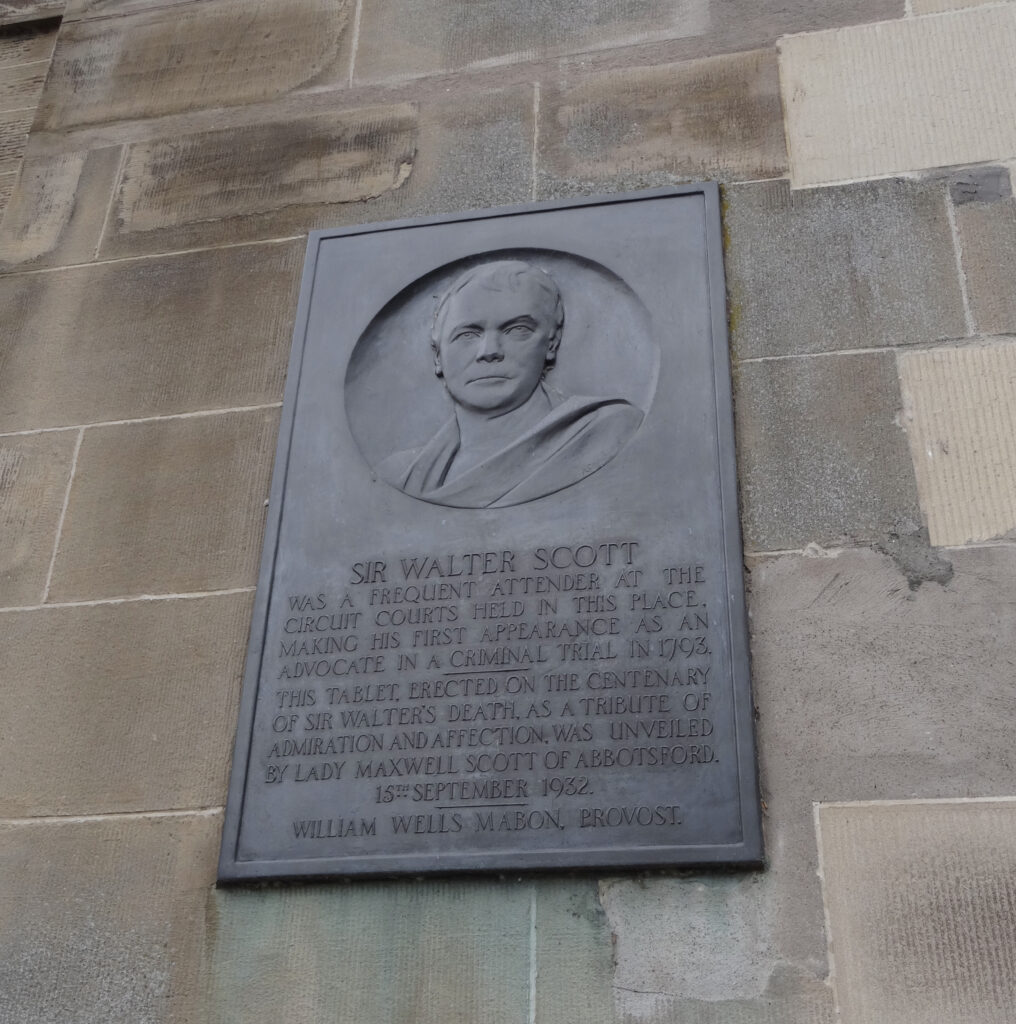 Directly opposite in the Market Place square is a monument commemorating the Golden Jubilee of Queen Victoria in 1887.
Further around from here can be found a house with a plaque on it which claims that Bonnie Prince Charlie stayed there on his ill-fated retreat back into Scotland in the November of 1745.
The town library bears the motto above the door entrance "Let there be Light" which identifies it as being a library that was funded by Andrew Carnegie. One of many that can be found throughout Scotland as well as many other countries around the world.
Finally, for any descendants of the Clan Kerr, less than two miles from the town Centre is Ferniehirst Castle. The earliest Kerr's lived in this area as far back as the 1300s. The undercrofts that support the present castle can be traced back to 1470. But it is most likely that there would have been an earlier castle most likely made from timber.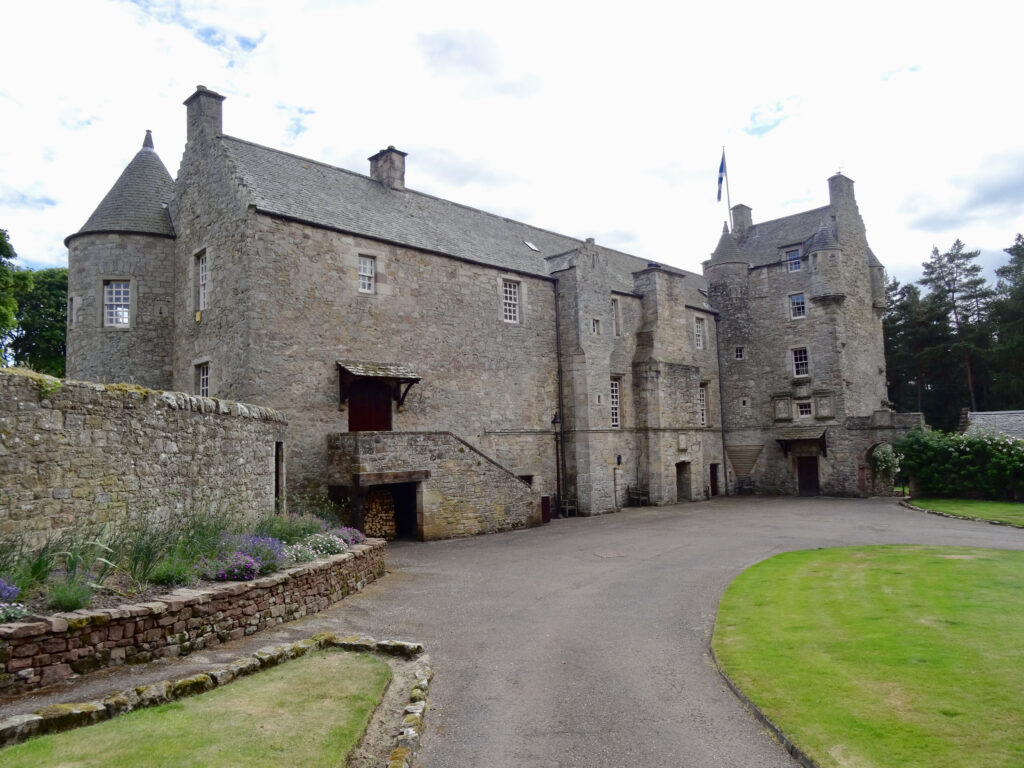 When the 3rd Lord Jedburgh died in 1692 without heirs, the castle passed to the Lothian branch of the Kerry family whose family seat is at Newbattle House near Dalkeith. Incredibly from 1933 to 1983 the property was obtained and run as a business by the Scottish Youth Hostel Association. But in 1983 Lord and Lady Lothian redeemed the lease and set about refurbishing the Castle. Normally, the castle is only open to the public during the month of July and you must book in advance. Again it is one of those gems that is worth visiting. 
Remember that Edinburgh Cab Tours can take groups to the Scottish Borders and can tailor the tour to your exact requirements. For further details please take a look at our Tours page.