Burns Night
Us Scots will jump at the chance of a celebration and that is why on 25th January we celebrate what has come to be known as Burns Night. Along with St Andrews Day and Hogmanay (New Year), Burns Night is a time for friends and family to get together.
But what is the purpose of Burns Night and why does it figure as highly as Hogmanay and St Andrews Day? This is the day that Scots not just in Scotland but all around the world celebrate arguably Scotland's greatest poet Robert Burns. His poetry was to earn him the title of Scotland's National Bard.
The earliest celebrations began after his death in 1796. Nine of his friends chose to celebrate him every year thereafter on 21st July, the date of his death. So, why are we celebrating on 25th January? At some point in the past people felt it was more appropriate to celebrate the birth of Burns and so we now celebrate on this date. He was born in 1759, and some would say he died far too young at the age of 37. But his was a life well lived.
Biography
Born in Alloway, Ayrshire of farming stock, he was home educated by his father with periods away to further his education. However, belonging to a farming family, he was required to return at harvest time. The family moved several times to work different farms but never able to improve their lot in life.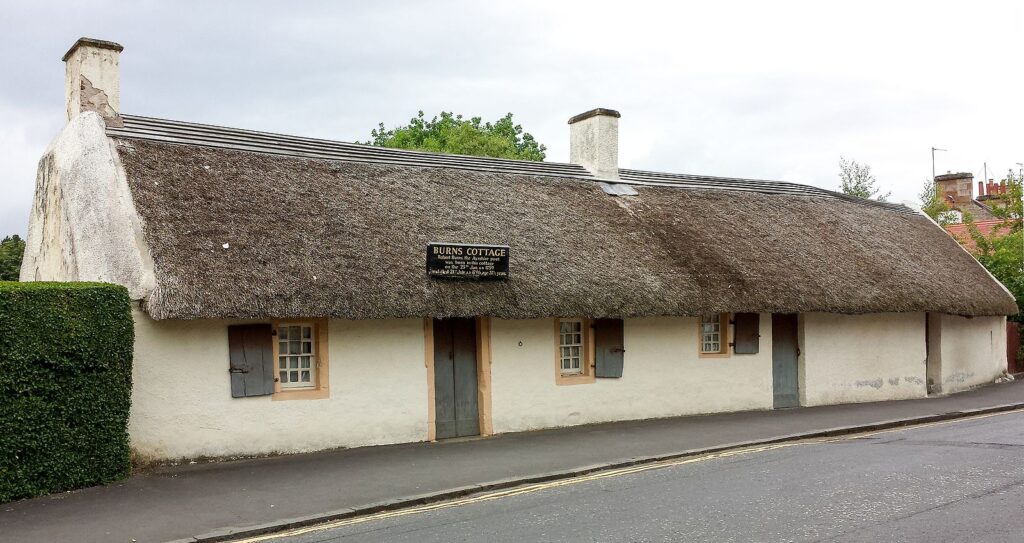 Possibly as early as 1774, at the age of 15, Burns was already writing poetry. They were normally poems written to woo the women in his life at that time. With financial difficulties hanging over the family, Burns was due to take up a position as a "bookkeeper" (assistant overseer of slaves) at a sugar plantation in Jamaica in 1786. Whether this actually sat comfortably with him it is difficult to tell but a few years later he wrote "The Slave's Lament" which suggests that he wasn't. Added to this was the fact that the movement for the Abolition of Slavery was gathering pace.
It was also around this time, that his marriage to Jean Armour had soured although he was to go on to father nine children with her, of which only three survived. Returning to farming he also took up the position of Exciseman, just in case the farm failed.
Eventually, he made his way to Edinburgh as his writing of both poems and traditional songs attracted much attention. After his death, his wife Jean Armour had to go to the Court of Session in Edinburgh to ensure that she and the family would benefit from the publication of a four-volume edition of his complete works.
His Works
So, what did Burns write about and what style of writing did he prefer? Because of his upbringing and education, his subject matter was wide and varied. He wrote about politics and was not averse to being highly critical. He wrote about republicanism – remember that he lived during the period of the French Revolution.
He also wrote about poverty, the hardships of the working-class man, sex and sexuality, religion and its place in society and was profoundly proud of his Scottish cultural identity. Conversely he was not averse to poking fun at the Scottish psyche.
He was an accomplished poet and writer choosing to write mainly in the more commonplace dialect of the Scots language but also in Scottish English. Likewise, where appropriate he was known to write the same verses in both Scots and English, particularly where he was trying to achieve a certain effect.
Burns Night Celebrations
So, what normally happens on Burns Night?
What started out as small intimate gatherings amongst friends has morphed into large "commercial" events. Quite often corporate events will use Burns Night as a night for a get together – at least during pre-COVID times.
The format, if a larger gathering, consists of a general welcome and announcements. It begins with the Selkirk Grace which has nothing to do with the town of Selkirk. Although not written by Burns, it is claimed that he delivered it at a dinner given by the Earl of Selkirk.
In Scots language:
Some hae meat and canna eat,
And some wad eat that want it,
But we hae meat and we can eat,
Sae let the Lord be thankit.
In English:
Some have meat and cannot eat,
And some would eat that want it,
But we have meat and we can eat,
So let God be thanked.
After the grace, the Haggis will be carried in on a silver platter. It will be piped in by a piper and placed before the man who will recite Burns's famous "Address to a Haggis". At the appropriate moment in the address, the addressor will take a dagger and stab and cut open the Haggis. Normally, all attendees will have already started tucking in to their Haggis, Neeps and Tatties while this is going on.
At the end of the meal there are normally a number of toasts made including a "Toast to the Lassies", and replies can be made. Sometimes this can also include a "Toast to the Laddies" normally made by one of the ladiespresent. The final toast will be to the "immortal memory" of Burns himself. The event usually concludes with everyone singing one of Burns's most famous songs "Auld Lang Syne".
It goes without saying that copious amounts of whisky will flow at a Burns Night.
If you want to learn more about Robert Burns, we can highly recommend a visit to Robert Burns Birthplace and Museum in Ayrshire. There is also the fantastic Writers' Museum which not only pays homage to Robert Burns but also, Sir Walter Scott and Robert Louis Stevenson. It can be found in Lady Stairs Close, just off the Lawnmarket section of the Royal Mile.
However, you plan to celebrate Burns Night, have a great evening.
Sláinte.